Gear Checklist
A sleeping bag
A pillow
A good quality rain suit
Waterproof footwear
Polarized sunglasses
Windbreaker
Shorts
Dry bag
Vital medications
Passports
Toiletries
Insect Repellent
Camera, film, video camera, batteries
Heavy jacket (for early spring or fall)
Down vest, turtleneck or chamois shirts
Groceries (Food for entire stay)
Tackle box with filleting knife
Bait
AM radio
Portable fish finder
Gloves
Flashlight
Ziploc bags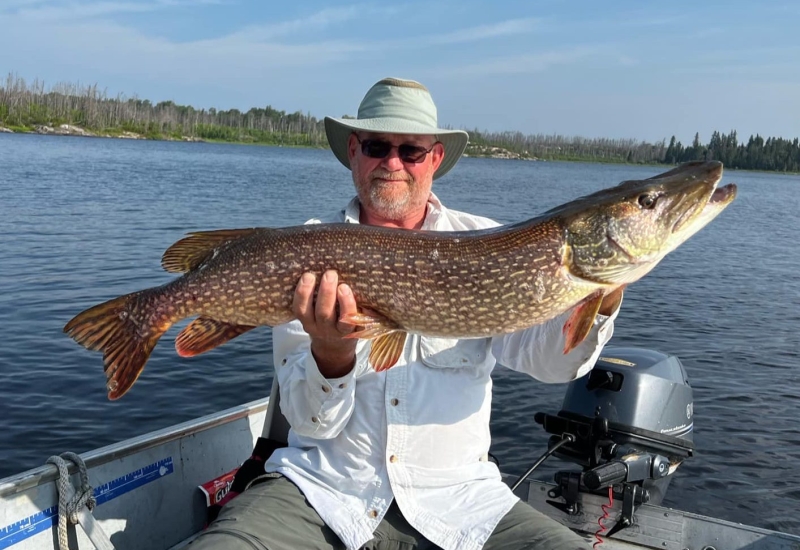 What to bring on your Fishing Adventure
Rods, Reels, Lines and Leaders
6' 6" or taller medium heavy casting rod and reel with 12-20 lb. test line (Northern Pike)
6' or taller medium light – medium spinning rod and reel with 6-12 lb. test line (Walleye)
12-24" 30-65 lb. test wire leaders with ball bearing bushing swivels or titanium leaders with cross lock snap swivels.
Flight weight restrictions
150 LBS per person of gear for groups of 4-5 people and 100 LBS per person of gear for groups of 6-8 people. Overweight charges will go on an extra charter flight basis.
Possession Limit and Size Restriction
We encourage catch and release at our outpost camps. To preserve our future resources we advise against take home limits. All walleye kept for shore lunch must be under regulation size. We suggest you get a replica mount for your trophy.
Barbless hooks must be used, you can crimp off the barbs as you use them. Barbed hooks can be used on the Ontario side. No live minnows are allowed, but you can use frozen minnows, live leeches and worms. Arrangements for bait should be made with Wallace Lake Lodge before your departure.
Pick-Up and Shuttle Options
We also arrange shuttles from Winnipeg International Airport. Some guests may prefer to be picked up at another sea plane base. Please call to check on additional costs for arrival/departure from:
Silver Falls, Manitoba
Ear Falls, Ontario
Manitoba Fishing Licenses
Fishing licences should be purchased online prior to your trip.
Fishing licences should be purchased online prior to your trip.
A deposit of $300 per person is required within 10 days of booking. The balance is payable prior your departure to the outpost camp. Cash, certified check or a bank drafts are accepted. All monies are non-refundable. However, the monies can become transferable with written or email cancellation at least 30 days from the trip date. In this instance, the monies are held and can be applied to another trip for a same group size in that same year or during the following season. If group size ends up being smaller, the held over deposits will be adjusted accordingly. Cancellations within 30 days of the trip are non-transferable. See our terms and conditions for further information.
If you have any questions, please contact us.
Book your Manitoba fishing trip
Manitoba's progressive fish management combined with strong conservation and selective harvest programs make it a world leader in sport fishing. Visiting anglers can count on a ready supply of trophy fish. Surrounded by sweeping clear-blue skies and pristine wilderness, anglers test their skills, savour a shore lunch and return home with a catch. Book Your Trip