Fishing and Hunting adventures in Manitoba Canada with Wallace Lake Lodge and Outpost Camps. Experience our Canadian wilderness frontier.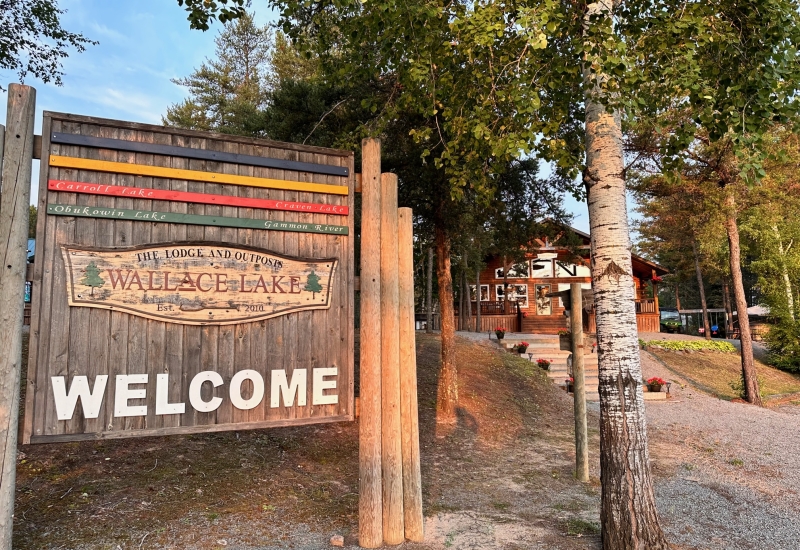 Wallace Lake Lodge & Outpost Cabins
Travel Distance to Wallace Lake Lodge & Outposts
Manitoba's central location is easily accessible from all major American cities through Winnipeg International Airport. Driving to the lodge can be done within 1-2 days from most midwest American cities.
0
Miles
From Winnipeg, MB
0
Miles
From Minneapolis, MN
0
Miles
From Waterloo, IA
0
Miles
From Chicago, IL
0
Miles
From St. Louis, MO

Read what our guests have to say!
Wallace Lake Lodge & Outposts promises you the wilderness experience of a lifetime.
Leo James
August 30, 2023.
This was a week long adventure in August. Anglers/campers need to be proficient two-stroke engines, wood, stoves, gas, heat, and gas ranges . Four bedroom accommodations were sufficient for six people. We spelled each other off in two shifts for eating. The boats are fantastic 4 foot hole with two stroke 15 hp Yamaha. Bring your own food drinks. Washing facilities were great with hot cold running water, shower and outdoor bathroom. We are average 20 to 30 fish per day per person, although the small fish tend to grab your bait or lure before the big ones move in. For my self, a four day excursion would've been sufficient having said that if you get a couple of rainy days, you can put a damper on the fishing.
Andy Beaver
August 21, 2023.
Had a wonderful weekend at Wallace lake, cabins were very clean and the staff was very helpful with all I needed. The boats they have are perfect for the lake that size. Would love to come back and stay longer next time.
Kodack Vincent
July 18, 2023.
Though I didn't catch anything ashore seen plenty of fish and our party caught decently in general great experience for sure go again for sure
Brian Tebben
July 13, 2023.
Spent 5 days at Obukwin. Was a great time! Very nice cabin and fishing was amazing!!
Kaleb Waldner
June 28, 2023.
Very clean, the folks there run a pretty neat operation. Very peaceful place. Lots of fish. No monster pike or walleye but 🤷, but lots of fish.
DBKB DBKB
March 18, 2023.
Have gone twice now...stayed at one the Wallace Lake cabins in 2021, plus did a fly-in into Obukwin in 2022. We dealt with Joe and James... both are responsive, friendly, honest, and easy to deal with. Both the outpost and the lodge cabin were super well kept and clean. You can tell this family takes pride in their lodge. Already booked another fly-in for summer of 2023, and hopefully another weekend in a lodge cabin as well. Plus the area is a true gem for nature.
Sipho Wenjabulo
October 12, 2023
recommends
Tested and trusted, my heartfelt gratitude Mrs lilian wilson for helping me to Trade and yield in Forex trading, I now believe that Forex is verisimilitude "Most of the important things in the world have been accomplished by people who have kept on trying when there seemed to be no hope at all." I have been seeing lots of positive recommendations about Mrs lilian wilson a qualified trader, finally decided to venture her platform which I invested just $4000 and successfully earned $28,900 in just 7 days, wow!!! what a pleasant experience which was astonishing and surprising then I re-invested continuously. contact Her today via, Email: lilianwilson220@gmail.com Whatsapp: +1 (714) 698-9275
recommends
Big congratulation to me on my first withdrawal from your platform Mr. Killian Bayer Are you still doubting this opportunity, Or are you still doubting the platform? If so you're missing a lot. I was recommended to Mr. Killian Bayer as the best account manager when it comes to crypto trading, I can testify to it from my first withdrawal from your platform, He trade is legit and genuine i just made a withdrawal of $11,700 from my trading. If you're here and looking for where to trade meet Mr. Killian Bayer and turn up your trade, he is the best of all. Contact him via. Email: killianbayer704@gmail.com WhatsApp: +1 707-654-4150 Facebook:Killian Bayer
recommends
I must confess that surely she is a skilled professional trader and the best among all, as her clients all said, I saw so many positive reviews about Mrs Alicia Malone, and she managed my account after I Invested $1000 and got a successful withdrawal of $10,200 within few days of my investment, "It always seems impossible until it's done"., with Mrs Alicia Malone your hard-earned money is 100% secured/Safe You can contact her via Email: aliciamalone770@gmail.com WhatsApp :+1218 394-2379
Cory Daly
August 28, 2022
recommends
We just spent the past weekend at Wallace Lake Lodge. August 26-28 2022. What an awesome place! Very clean, comfy warm/cool cabin! Everything you would want in a cabin! Great staff available 24/7 (plus very adorable family ambassadors to great you! ❤️) Great fishing! Even supplied a fish fry station! Awesome fish cleaning hut! Even a great beach if weather is really hot! Boat rental was awesome! Would love to check out the outpost fishing spots next!! Thanks so much Joe and Paul ! Highly Recommend!!!
Denise Lange
February 24, 2021
recommends
Beautiful, peaceful and stellar, clean, tasteful cabins and grounds
Anthony Kasdorf
April 16, 2019
recommends
James and Joe are great hosts, spent time at Craven lake during the 2018 season and our group loved it. The cabin is spacious, clean and accommodated our group of 8 well. The fishing was amazing also.
Russ Hoeschen
May 31, 2018
recommends
Amazing fishing... great cabins ..... the guys at wall
Cam Mazurek
July 11, 2017
recommends
The outpost and lake are a sanctuary! I look forward to returning next season for another round of awesome fishing and relaxation with the Wallace Lake Lodge
Richard Hartwich
June 13, 2017
recommends
This June was my first time to Wallace Lake Lodge and it was a fantastic trip. They do things up right with excellent service, clean and perfectly equipped cabin, great boat rentals and fantastic fishing!
Jade Karsin
June 13, 2017
recommends
Wallace Lake Lodge is without a doubt my favourite Manitoba fishing lodge. I've been staying at that lodge 2 or 3 times a year since 2013. The cabins are very well equipped with all of the comforts of home (including a full kitchen, bbq and fish fryer). The boats are newer and very well maintained. It was an added bonus to find fish finders included on two of the boats this year. The crew that run the place work hard to ensure you are well looked after. They do a great job of making things easy including highlighting all the best fishing spots. I can't say enough positive things about this place. I'm already looking forward to my next visit.
Rate and review us on the below social sites. We appreciate your testimony!